Nylon vs Polyester Cord. Which One Is Better?
There are nylon cords and polyester cords. Which one is better and what are the differences between them? To the naked eye, both are powerful and long-lasting, but there are huge differences between them.
To understand it better, let's start with manufacturing.
Nylon, like polyester, is made into fibers through melt processing. But their compounds are different. We will not go that far, let us look at synthetic fibers.
Therefore, the manufacturing process of nylon is similar to that of polyester. The only difference is the number of threads in the core. First, nylon or polyester thread is wound on a spool, thereby forming a shell. Then, the thread is transferred to the shell.
We have nylon and polyester cords. But the quality is significantly different.
Here are the main differences between nylon and polyester cords that you can see in your hand:
Firstly, the sense of touch. Polyester cord is thicker than nylon ones. You can feel its roughness. This feature affects future use. The cord bends harder and easier to untie, making knotting more difficult. In addition, polyester emits an unpleasant smell after melting. These problems will not appear on the nylon cord.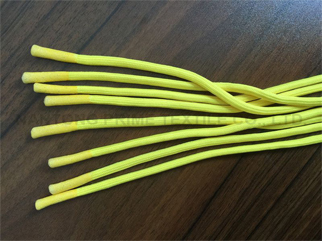 Secondly, structure. Although their structures are the same, they are different. The inner thread of the polyester cord tends to fall apart automatically. Due to the fact that the polyester cord burns, it becomes more difficult to scorch the end. A nylon cord is more practical. Once the cord is cut, the thread will not fall apart, and if it is burned, it will form a neat and strong connection.
Thirdly, quality. As we all know, a polyester cord is easy to fade. Over time, you will find that your bracelet or the key chain has faded. Humidity and sunlight played a role. Your favorite color will never make you happy anymore.
Nylon cord has neither effect nor reaction to ultraviolet light. It can withstand exposure to chemicals.
These indicators together prove to us that nylon products can maintain their appearance no matter what conditions they are in (under the sun, in the saltwater, in the dirt, etc.).
Our polyester cords are used in knitting wear, sports wears, cap, etc.
We are Polyester Cord Suppliers. Please feel free to contact us if you are interested in our products.