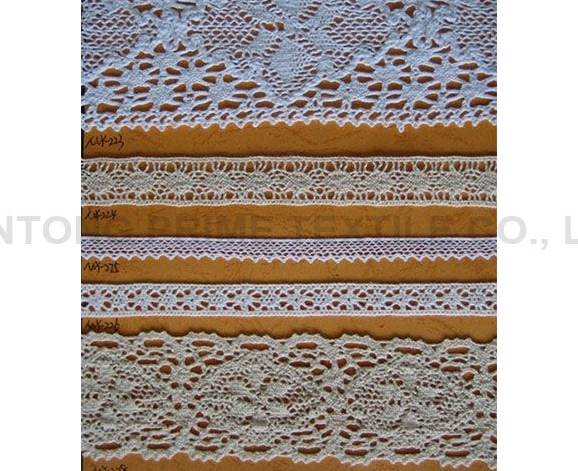 If we take manual or mechanical processing to roughly distinguish, there are only two categories, handmade lace, and mechanical lace. However, most of the current handmade lace has been imitated and replaced by mechanized weaving since the industrial revolution in England. The lace presented below is distinguished by its production method and the name of the weaving machine.
Filet lace
A net made with a netting needle that uses lace thread to make knotted eyes at the corners, in the middle of which an embroidery pattern is created. Developed from fishing nets and hunting nets. As an old hand-made lace, it has now been replaced by mechanical mesh fabrics.
Knotted lace
A general term for hand-knotted yarn or braided tape made into a perforated lace. It is used as a treatment for fabric edges, cords, knotted braid before the beginning of the threaded spike, or developed from fishing nets, hunting nets, and became the mother of bobbin lace. The current popular tassel lace is a kind of knotted lace.
Crochet lace
A lace-like textile made of cotton, silk, viscose fiber, nylon, etc., with a uniform mesh. The mesh is also called "crochet lace" because the mesh is divided into hexagonal shapes like a turtle's nail, or "raschel mesh" or "Oamaru mesh". Lace with a crochet hook to create a hole-through pattern. The more famous ones are such as Irish hand crochet lace.
Tulle lace
Mesh lace made in TULLE, France, later transformed into mechanical lace.
Darned netting
A hand-knotted lace with a bold perforated pattern on a darned netting fabric with thick mesh at all corners.
Bobbin lace
An old-fashioned hand-made narrow lace in which the pattern is loaded on a pillow table, pinned, and the yarn wrapped around the prongs is repeatedly combined in two operations: "winding" and "passing" to form the lace.
Open work
A general term for the embroidery method is in which holes are created by drawing, pulling, or cutting the yarn of the base fabric. The later types of embroidery, such as drawing and carving, are all types of lace embroidery.
Cut work
The technique of cutting out a part of the embroidery fabric to create a perforated pattern. It is the basis for the creation of needlework lace.
Drawn work
This is the technique of drawing part of the warp or weft of the base fabric and weaving the remaining yarns to create a perforated pattern.
Embroidery lace
Embroidery patterns are made by carving, net embroidery, draw embroidery, embroidery, and other embroidery techniques on fine fabrics and hexagonal mesh fabrics, etc. On the basis of this technique, needle embroidery lace and new lace are produced. It can be produced mechanically.
Rachel lace
A mechanical lace that is thin and flat, but thicker and stiffer than the above type of riba lace.
Lace made by a raschel warp knitting machine has a rich pattern expression because of thicker needles and more combs and is characterized by a perforated base fabric. There are lace, mesh fabric, hexagonal mesh fabric, beaded roving, etc., mainly woven with nylon thread, polyester thread, cotton thread, etc. It is also a more widely used mechanical lace, such as daily-use clothing. The lace is made by putting strands of thread into the lace pattern to make the pattern three-dimensional.
Chemical lace
This is a mechanical lace with a heavy feel that is embroidered on the entire surface of silk or water-soluble vinyl fabric with an embroidery lace machine and then dissolved with chemicals, etc., leaving only the embroidered part.
Laver lace
A mechanical lace that imitates embroidery lace, and is thin and thin. It was developed in 1813 by the Englishman John Leeba. It is called leaver lace because it was woven by the leaver lace machine developed by Englishman John Leeba in 1813. It is one of the more widely used mechanical lace, such as light underwear, dresses, etc.
Needlepoint lace
A patterned paper is used instead of the base fabric, and the pattern outline is fixed with a bamboo needle on top of it using linen or cotton thread, and before the paper is removed, the mesh is stitched with a lockstitch stitch. After the paper is removed, the lace is then created with a needle and thread. Hand needlework lace declined due to the industrial revolution and evolved into mechanically woven lace.
Torchon lace
Known as beggar's lace in the 16th century, this is a simple, narrow rib knot lace. It is used for edge trimming and insertion. It is now the mainstay of mechanical lace.
We are an Elastic Lace supplier, please feel free to contact us if you need them.